FRP Counter-Flow Cooling Tower Cuboid Shaped CFS-SERIES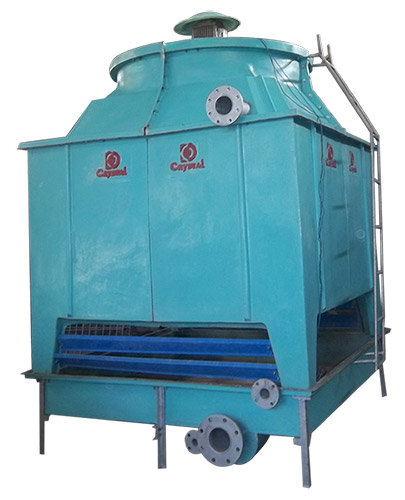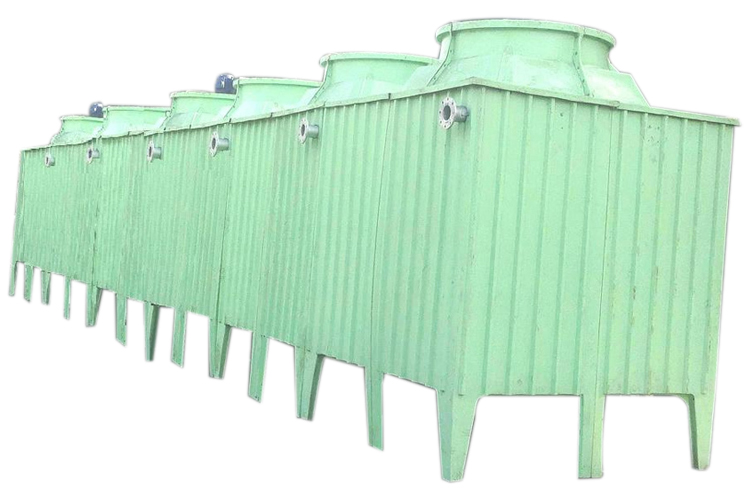 Casing And Basin:- The Gelcoated Shell  And Basin Of Cooling Tower  Is Robust But It Is Light Weight Made By Engineering Polymer  Grp  [Glass Fibre Reinforced Polymer].We Are Using Premium Raw Goods To Makes Structural Strength And Withstand Capacity.It Is Repairable  By Skilled Person
Supporting Structures:- All Supporting Structures Made By Mild Steel Angles ,Flats And Round  Best Available In Market .It Is Treated With Hot Dip Galvanizing /Epoxy Coated After Fabrication Work Done. Treatment Gives Long Life And Protection From Rust And Scale Formation.
Electrical Fan Motor:- Elctrical Fan  Motor Is Specially Designed For Cooling Tower Application .It Has Low Rpm ,Long Shaft Fitment  And Vertical Mounted For Better Airlow ,Reducing Vibration And Low Noise Polution.Tesc [Total Enclosed Surface Cooled]Insulated Ip-55 Grade With Weather Proof Design Sustain In Bad Weather .
Adjustable Pitched Axial Flow Fan:- Axial Flow Fan Throw Maximum Air At Low Rpm Motor To Give Better Cooling Performance .Direct Driven Fan Eliminates Gear Reducer Drives Or 'V'belt Arrangement  For Regular Maintenance And Sudden Breakdown .It Is Also Less Vibration And Noise Pollution.Fan Available In Aluminum,Frp,And Engineering Polymer
Water Distribution Systems:- Two Proven Design Water Distribution System Available  .
1] Static Big Orifice Nozzles
Fills Packings:- Honey Comb Designed Fills Packing Make Heat Dissipation Through Counter Contact Between Air And Hot Water To Perform Maximum Cool Down Hot Water Temperature .Fills Available In Conventional ,Double-Edge Folded ,Abs And Ips
Canopy:-Specially Designed Canopy Protect Electrical Motor From Rain And Sunrays And Give More Life .
Eleminator:- Pvc Eleminator Reduce Water Droplet From Air And Saves Water As Precious Need For Life.
Frp In Built Legs:-Most Of Our  Units Has Inbuilt Legs For Long Life And Protected From Rust And Scale Formation.
Out Side Louver Arrangement:- Louvers Arrangement Reducing Water Spill Out From Cooling Tower  Saves Water And Cleanness Near Cooling Tower